Porn The Theory – Fantasy The Practice
by Stewart Home & Itziar Bilbao Urrutia
A Darling Pearls & Co Production in Partnership with Cable Depot.
Curated by Alessandra Falbo
@ Cable Depot : Unit 8, Warspite Road, SE18 5NX
Private Reception & Drinks : 30 August 2019, 7-10PM 
7-8PM : First Screening + Talk by the artists and curator. Please RSVP (20 seats).
8-10PM : ALL WELCOME !!!!!!!!!!!!!!!
Exhibition Continues : 31 August – 1 September 2019, 12-6PM
This is not a child friendly event.
SUBMISSION IS FREE.
Porn The Theory – Fantasy The Practice, presents two recent collaborations by Stewart Home and Itziar Bilbao Urrutia. The exhibition invites us to re-consider obsolete gender politics in the arts as well as in the sex industry.
Porn The Theory (2019) – 06'42'' – is a re-enactment of the butter scene from Last Tango In Paris (1972). In it Stewart Home plays the part originally assigned to the actress Maria Schneider (1952-2011) while Itziar Bilbao Urrutia plays a composite of the male roles of Marlon Brando (1924-2006) and Bernardo Bertolucci (1941-2018). The scene was, in 1972, decided upon at last minute by the male director and by the also male actor without the actress' previous knowledge of it. Maria learned about it as the shot was already taking course. In 2019, Hegelian reversal is employed by Home and Urrutia in order to explore sexism and sexual abuse in the movies. The film explores what happens to the scene and also to the story behind it with the genders reversed. In its dialogue it incorporates lines from the original film, from an interview given by Maria in 2007 and also from Bertolucci's comment on it in 2013. The duo originally agreed on having two versions of Porn The Theory, a soft porn one aimed at the art world and another one aimed at Urrutia's public as a fetish content producer. As it turned out the soft porn version was never finished and, for this reason, we are presenting the only existent one.
Set in a stark industrial workshop, Bondage As Theme & Technique (2019) – 42'49'' – assembles and disassembles the moralistic noise that inevitably hounds the practice and representation of porn and spits it back at the viewer. Porn as a genre has been accused of being culturally void – what other film genres elicit more rivers of toxic green goo, than porn? Filming is the easy part. The narrative reveals itself during editing, as the footage is spliced and assembled to tell the story. In collaboration with Stewart Home, Itziar Bilbao Urrutia arranges this video like furniture in a room, giving or altering the meaning in the process of editing. The long and elaborate rope bondage suspension shown in it acts as a meditation on what constitutes a sex act and what is defined as pornographic. In Bondage As Theme & Technique, traditional porn tropes such as 'the money shot', genital close-ups and sweaty bodies rubbing against each other, are substituted by veiled figures, gymnastic feats of a non sexual nature and rope, miles of rope. Like the Hanged Man in Tarot cards, the Object is suspended in timeless animation; the officiating Subject (Urrutia), keeps the veil of the officiation throughout. To a spoken soundtrack that includes their own written texts, Linda Williams, Andrea Dworkin and R v Brown [1993] UKHL 19, aka the Spanner Case, Stewart Home and Itziar Bilbao Urrutia engage in a ritual of Japanese rope bondage and sado-masochism where they turn sexualised acts and fluids into a fragmented visual dialogue. The contradictory voices as soundtrack, critique, dismember and legislate sexual acts that challenge the hegemony of the genitals, are at the centre of pornographic content.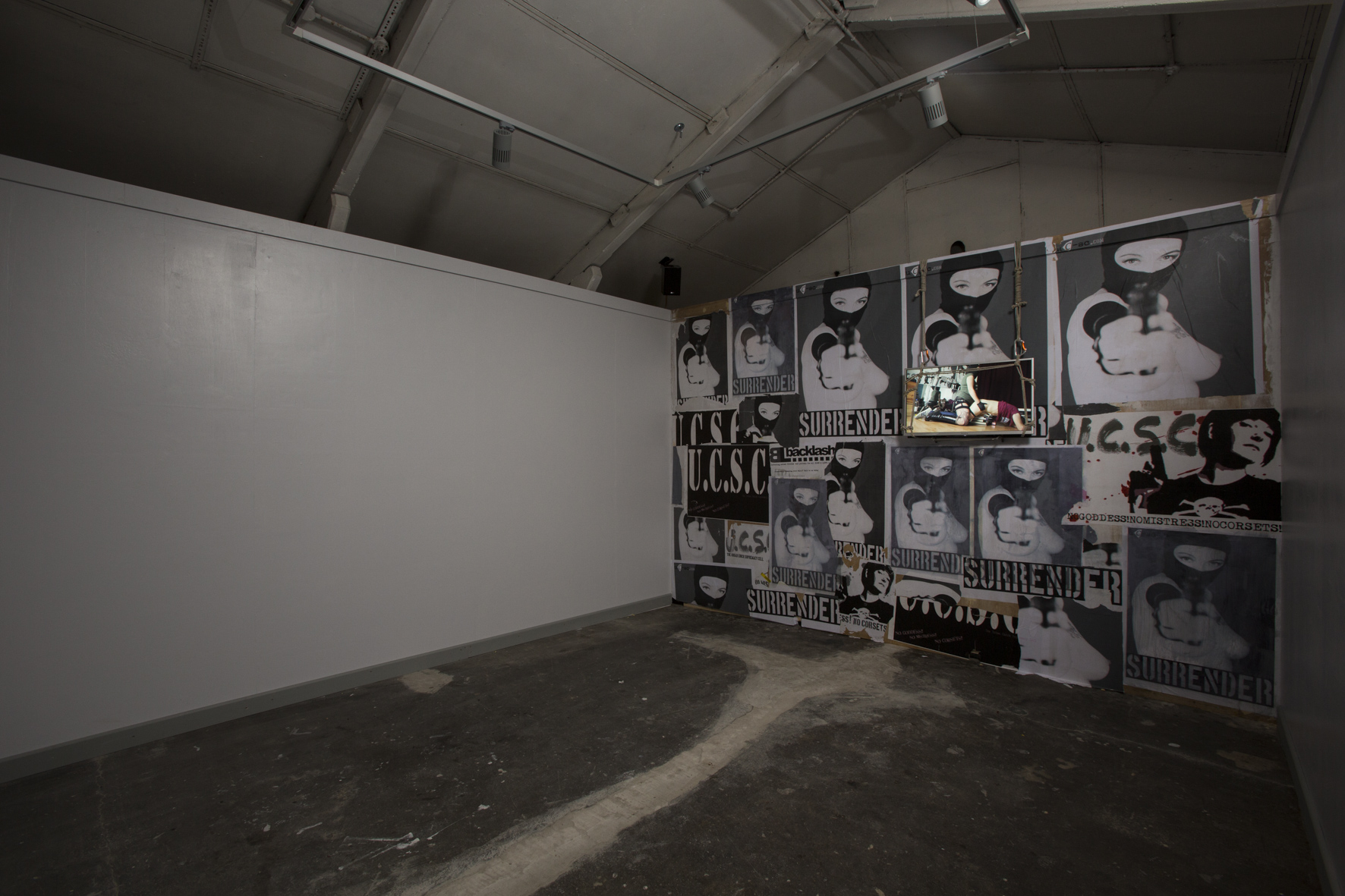 .
——————————————————————————————————————————
Stewart Home is an award-winning visual artist and author of fifteen novels, seven works of cultural commentary, one collection of poetry and one collection of stories. His most recent solo exhibition was Dual Flying Kicks at 5 Years in June 2018. His most recent book is Re-Enter The Dragon: Genre Theory, Brucesploitation & the Sleazy Joys of Lowbrow Cinema (Ledatape Organisation, September 2018). Home was born and lives in London. When he isn't shredding copies of his own books as live art, he likes to entertain audiences by standing on his head and spewing obscenities. 
Itziar Bilbao Urrutia is a visual artist, activist and pornographer based in London. Her practice is linked to its many sexual subcultures. Her interest in the disobedience of the Monstrous Feminine has led her to explore mediums unrelated to the art tradition, such as porn as a film genre. Since 2004, her projects have been based on an exploration of the international fetish scene as a space of identity and praxis, that lead her to establish her own fetish porn studio, The Urban Chick Supremacy Cell. Using digital adult content as a form of survival and of expression, she mixes the discourse of Femdom with the aesthetics and rhetoric of historical radical action and feminism, such as Valerie Solanas and the Baader-Meinhof group. 
Please sign up to the Darling Pearls & Co mailing list